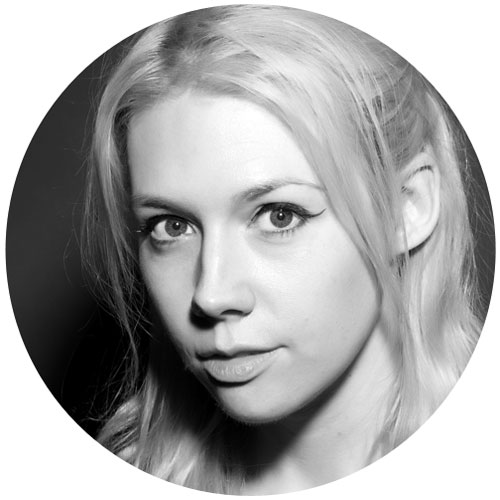 A K Benedict read English at Cambridge and Creative Writing at the University of Sussex. She writes in a room filled with mannequins, clowns and teapots.
Her debut novel, The Beauty of Murder (Orion), was shortlisted for an eDunnit award and is in development for an 8-part TV series. Her second novel, Jonathan Dark or The Evidence of Ghosts (Orion), was published in February 2016 and The Stone House, a tie-in novel for Doctor Who spin-off Class, was published by BBC Books in October.
Her poems and short stories have featured in journals and anthologies including Best British Short Stories, Magma, Scaremongrel, and Great British Horror. Her first audio drama, The Victorian Age, was released as part of the Torchwood range at Big Finish in February, while Outbreak, a three-part Torchwood drama co-written with Guy Adams and Emma Reeves, will be released November 2016.
Before becoming a full-time writer in 2012, A K Benedict was an indie-rock singer/songwriter, playing with her band The Black Tulips and solo as Pimpernelle. She was also a composer for film and TV, with music played on BBC 1, Channel Four, Sky, XFM, Radio 1, Radio 3 and in award-winning films. She still composes occasionally and now sings with The Slice Girls, a group of female thriller writers singing songs of sex, death and criminal activities.
She is currently writing scripts, short stories, a standalone psychological thriller and the sequel to The Beauty of Murder. She lives in St Leonards-on-Sea with her dog, Dame Margaret Rutherford. 
Praise for A. K. Benedict
'A. K. Benedict is snapping at the heels of Ben Aaronovitch as one of the new stars of the sub-genre of crime with a supernatural twist' – SUNDAY EXPRESS
'A K Benedict can write beautifully and has imaginative flair' – THE GUARDIAN
'One of the very best writers currently gracing our bookshelves' – DAD.INFO
'Some authors write beautifully, others can tell a great story. Not many can do both but A. K. Benedict achieves it' – HOWARD LINSKEY