I can at last stop clamping my hand over my mouth and announce that Torchwood: Outbreak, a three-part audio drama mini-series starring  John Barrowman, Eve Myles and Gareth David Lloyd, will be released by Big Finish in November. I co-wrote Outbreak with Guy Adams and Emma Reeves and it has been wonderfully produced by James Goss and directed by Scott Handcock.
'This is pretty much what everyone has wanted from day one,' says producer James Goss. 'Torchwood's holy trinity reunited in a full-cast box-set. Released as part of our celebrations of Torchwood's 10th Anniversary, it sees the Institute at their very best and their very worst.' 
Supported by original series favourites Rhys and PC Andy, played by Kai Owen and Tom Price,  it can be pre-ordered here now. Wooooo!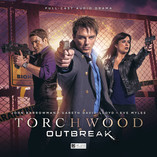 ←
'The Victorian Age' is Here!
♦
Events update
→