In a city of lost souls, the living and the dead are sometimes too close for comfort…
Maria King knows a secret London. Born blind, she knows the city by sound and touch and smell. But surgery has restored her sight – only for her to find she doesn't want it.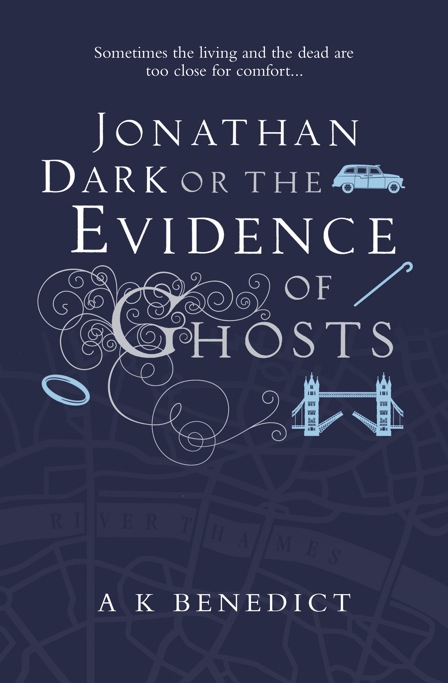 Jonathan Dark sees the shadowy side of the city. A DI with the Metropolitan Police, he is haunted by his failure to save a woman from the hands of a stalker. Now it seems the killer has set his sights on Maria, and is leaving her messages in the most gruesome of ways.
Tracing the source of these messages leads Maria and Jonathan to a London they never knew. Finding the truth will mean seeing a side to the city where life and death is a game played by the powerful, where everyone is lost but nothing is missing, and where all the answers are hiding, if only they listen to the whispers on the streets.
Shot through with love and loss, ghosts and grief, A K Benedict weaves a compelling mystery that will leave you looking over your shoulder and asking what lurks in the dark.

Praise for Jonathan Dark or The Evidence of Ghosts so far:
'AK Benedict is snapping at the heels of Ben Aaronovitch as one of the new stars of the sub-genre of crime with a supernatural twist… A sparkling authorial voice and sassy dialogue keep the weird story grounded but ultimately the novel is, as it should be, haunting' – SUNDAY EXPRESS
'A K Benedict has combined the hardboiled and supernatural in a manner that is both gripping and stylish. . . The city itself is a major character here, brought vividly, lovingly to life. . . Tense 21st century Gothic in which the modern world and echoes of the past come together to create something excitingly new' – CHOICE
'A K Benedict can write beautifully and has imaginative flair' – THE GUARDIAN
'Confirms her as one of the very best writers currently gracing our bookshelves. . . Beautiful, heartfelt and utterly brilliant' – DAD.INFO
'The characters leap off the page. . .themes of loneliness and loss are deftly woven into the mystery as the story draws you in, bringing you inexorably closer to a devastating conclusion. . . grimly atmospheric, beautifully written novel. . .guaranteed to keep you in its grip. 9/10' – SCIFIBULLETIN
'Every once in a while you read a book that enthrals you, wrapping you up tight inside its world and holding you spellbound throughout the entirety of the story. For me, this is that book. . .Beautifully written. . . lightness of touch and originality in the prose. . .Quirkily original, with deeply drawn unique characters and a brutally magical London setting, this story has you traversing all the emotions from darkness to delight with a gut-wrenching honesty. . .a stunning read. I cannot recommend this book highly enough. It is, quite simply, marvellous' – CRIMETHRILLERGIRL.COM
'Thought provoking, haunting and full of descriptive authenticity…like the river running through it, the narrative bends first one way then another…the writing is really quite beautiful…a rip roarer of a plot… gorgeous speculative storytelling…a wonderful new mythology…Yep I'm definitely a little in love with this book' – LIZLOVESBOOKS
'I wish that every book I read was as enjoyable as Jonathan Dark or The Evidence of Ghosts. A 5/5 review score is a given' – GRABTHISBOOK.NET
'Spookily addictive. . .A. K. Benedict's delightfully light touch when describing both the quick and the dead (and sometimes the not-so-quick dead) is a joy and the reader soon gets swept up. Ms Benedict can certainly turn a phrase. . .It is possibly the funniest, freshest, cleverest and slightly bonkers thing on the crime scene' – SHOTSMAG
'Even if the book hadn't totally won me over within a few pages, I'd love it for the final words. . .I hope that this does have a sequel. . . Benedict gives new life (pun intended) to the "weird London" genre. . . a brilliant mash-up, genuinely original and entertaining on every page'  – BLUE BOOK BALLOON
'Evocative and colourful and confirms her voice as quite unique. . . masterful in the way she builds up wonderful, truly original characters and the most unsettling of antagonists. . .loving evocations of London's river and dark side. . .characters quite unlike those encountered in your average British crime novel. . . a potent cocktail that will linger in your mind and nightmares for ages' – A MAXIM JAKUBOWSKI SELECTION FOR LOVEREADING
'The gradual revelations of the spirit universe are cleverly drip-fed to us, adding to the pervading sense of intrigue. It will affect you once you finish the book, even if only because you're constantly checking the gaps under your doors' – THE BOOKBAG
'A delightfully surprising, supernatural read. . .You do not need to believe in ghosts to be utterly enchanted with this world. . . Dark is the sort of man you want on your side, but at the same time you are drawn to give him a hug. . .Please can we have more Dark?. . .Absolutely recommended' – NORTHERNCRIME.WORDPRESS.COM
'Would appeal very much to those adults who grew up with Harry Potter and are still searching for adult reading with the perfect blend of fantasy and reality. . .  a book that has the potential to be a real crowd-pleaser. . . It was tense and chilling both as a crime story and a ghost story. . .It's quirky and different. . .has the potential to snowball into a big seller' – NUDGE-BOOK
'Jonathan Dark. . . is a dream of a character. . .her writing is atmospheric and gives a wonderfully realistic sense of place'  – RANDOM THINGS THROUGH MY LETTERBOX
'A brilliant read. It has a page-turner of a lot with all the believability of a well researched police procedural. The characters are all complex – even (or especially) the ghosts. The realistic and supernatural are expertly blended in the race to find a serial killer. I absolutely loved it' – SNOAKES on GOODREADS
'Highly recommended if you fancy a crime novel that is a little different' – STEPHBOOKBLOG
'I absolutely loved the creepy and dark world A. K. Benedict paints in this novel…very eerie atmosphere…this book did a fantastic job of crossing genres… original plot packed full of pace and suspense…the author's beautiful descriptions and dark humour really brought the story to life' – CHILLERS KILLERS AND THRILLERS
'An absolutely glorious crime/fantasy/ghost story mash-up. In a seriously crowded genre, A K Benedict has produced something original, quirky and enormous fun. . . Beautifully written, darkly funny, constantly surprising. . . my find of the year so far' – SHARON BOLTON
'Wonderfully drawn characters, well-crafted sentences and an eye for just the right detail in the right place' – JAMES OSWALD
'This haunting supernatural thriller is full of hidden treasure that will delight you long after you've turned the last page' – SARAH PINBOROUGH
'Wonderful! The work of an exquisitely twisted imagination' – DAVID MARK
'One of those books that crawls under your skin from the very first page. . . A K Benedict's spade digs deep into the human condition. . . an engrossing story of mystery and danger, love and loss, life and death, but at its heart it's a tale of people and the complicated nature of existence. . . Not to be missed' – EDWARD COX
'A wonderfully creepy mystery that charts the hidden corners and metaphysical geography of London. Can't wait to see what A K Benedict does next' – MASON CROSS
'The exceptionally talented A. K. Benedict explores a side of London that you never knew existed: from the joys of mudlarking to the ghosts that walk among us. Quirky, delightful, and poetically written, Jonathan Dark is a book that plays with your perceptions and leaves you wanting so much more. . .you will never look at a black cab in the same way again' – SUSI HOLLIDAY
'Some authors write beautifully, others can tell a great story. Not many can do both but A. K. Benedict achieves it' – HOWARD LINSKEY
'Twisty, strange, sweet and unique – and still on my mind weeks after reading' – HELEN GILTROW
'Intricate and wonderfully dark' – QUENTIN BATES
'Utterly compelling' – CAVAN SCOTT
'JONATHAN DARK is the best kind of novel. It's witty, tense, intriguing, brimful of great ideas and so compelling that you have to buy propecia 1mg online and fight the urge to turn the pages almost faster than you can read it just to find out what happens next' – MARK MORRIS
'A dark and skilfully written tale, with lyrical prose that grabs you from the very first page' – AMANDA JENNINGS
'Step into the imagination of AK Benedict for a crime novel with a difference' – JANE ISAAC
'My book of 2016 so far. Written with passion and intelligence. The story utterly hooked me. A MUST read' – JOHNNY MAINS
←
The Beauty of Murder
♦